Prepositions
A preposition is a word that explains a relationship between other parts of a sentence. That relationship could be location or space, time, or another logical connection. There are hundreds of prepositions. Some common prepositions include, behind, above, up, near, down, after, before, always, around, among, within, at, in, over, and by.
Example: We parked the car under the trees on the side of the parking lot.
I put my homework in my backpack, which hung from a hook in the hallway.
The mayonnaise was hidden behind the bag of oranges in the refrigerator.
Prepositions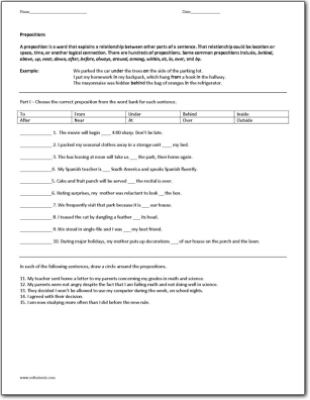 Related Links:
Prepositional phrases
Prepositional phrases
Prepositions
Prepositional phrases